EVENT
Annual Public Sector IT Conference 2013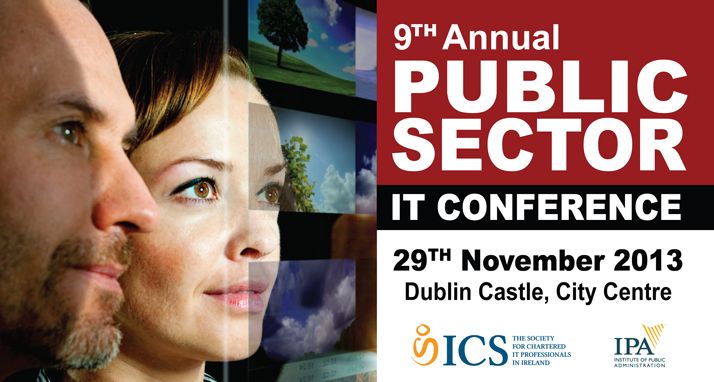 The Ninth Public Sector IT Conference is taking place this Friday, 29th November in Dublin Castle, Dublin City Centre. The conference is the largest of its kind in Ireland and due to the increased interest from delegates, speakers and start-ups alike, organisers the Irish Computer Society (ICS) and the Institute of Public Administration (IPA) decided to upgrade the venue to the prestigious Dublin Castle.

This innovative event will feature high- profile speakers such as CIO for the Irish Government, Bill McCluggage who will deliver a speech on "Government Strategy for ICT", and Dr Johnny Ryan, CINO for the Irish Times who will address the conference on "Innovation in the Digital Age – Strategies for the Future".

The Full Agenda is available for download HERE.

Start - Up Zone
A new and exciting aspect of the event that 15 start-up companies will get the chance to present and display their business ideas to this unique audience of IT professionals, managers and businesses working in both public and private Sectors. ICS CEO Jim Friars who is speaking at the event, commented on the new development saying, "This will be an excellent opportunity for the start-ups as the Public Sector IT Conference has come to be recognised annually as a key event in providing a significant contribution to the development and understanding of information technology in the public sector."

One of the star-ups is Dublin-based software company GeoPal Solutions, who recently announced the creation of 20 new jobs by the end of 2014 after raising €1.5m in seed funding. The investment came from the Enterprise Ireland High Potential Start Up (HPSU) fund, and private investors, to support the international expansion of the business to the US, UK, South Africa, and Asia. CEO of GeoPal Gerard O'Keeffe said, " We are excited about the fact that the public sector are looking more and more to cloud solutions to solve their operational requirements. Our aim is to help them with their field information capture requirements and health and safety requirements, such as lone- worker protection."

The Themes
Two themes will be discussed on the day, "Making sense of the future" which will focus on the future of IT technology and how the public sector should embrace and adapt to these new technologies now and in the future. The second theme, "Where we excel and need to accelerate" will look at how we are currently embracing change in some areas but also in need of change in others. This theme will address changes needed while acknowledging the good work that has already been done.

With over 130 resgistrations already for this event, make sure you don't miss out.
Keynote Speakers:
Bill McCluggage, Chief Information Officer (CIO), Irish Government
Dr. Johnny Ryan, Chief Innovation Officer, Irish Times
Additional Speakers
Evert-Jan Mulder, Senior consultant, coach, academic director van MPIM at PBLQ HEC
Johannes Van Veen, Senior consultant, coach, academic director van MPIM at PBLQ HEC
Karl O'Leary, Public Sector Director, Microsoft Ireland
Marie Lalor, The National Healthlinks Project
Michelle Kearns, Health Informatician, Adastra Software Ltd.
Linda NiChulladh, Regulatory Advisor, An Post
Price: Members €150 Non Members €250
Private sector delegates wishing to attend, please contact events@ics.ie for price details

Members – book your place at this event for the special price of just €250.00 €150
Membership means more than saving on events. You can also network with like-minded professionals, and gain recognition of your experience and expertise. Learn more about membership benefits.
Members' price:
€150
THIS EVENT HAS ALREADY TAKEN PLACE
Begins at 09:00 and ends at 17:00
€250.00 – THIS EVENT HAS ALREADY TAKEN PLACE
Share this event!